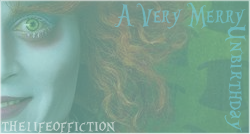 Very Merry Unbirthday Wishes!
Any book with a release date that is not today, we wish these Future Favorites a Very Merry Unbirthday. Mainly I focus my UnBirthday wishes on books to be released the following Tuesday,which in this case is
Tuesday
July 26th
!
This thrilling sequel to the much-talked-about Nightshade

begins just where it ended-Calla Tor wakes up in the lair of the Searchers, her sworn enemy, and she's certain her days are numbered. But then the Searchers make her an offer-one that gives her the chance to destroy her former masters and save the pack-and the man-she left behind. Is Ren worth the price of her freedom? And will Shay stand by her side no matter what? Now in control of her own destiny, Calla must decide which battles are worth fighting and how many trials true love can endure and still survive.
Read more about
Nightshade
Supernaturally is the sequel to Kiersten White's amazing novel Paranormalcy. Evie finally has the normal life she's always longed for. But she's shocked to discover that being ordinary can be kind of boring. Just when Evie starts to long for her days at the International Paranormal Containment Agency, she's given a chance to work for them again. Desperate for a break from all the normalcy, she agrees. But as one disastrous mission leads to another, Evie starts to wonder if she made the right choice. And when Evie's faerie ex-boyfriend Reth appears with devastating revelations about her past, she discovers that there's a battle brewing between the faerie courts that could throw the whole supernatural world into chaos. The prize in question? Evie herself. So much for normal.
Read more about
Paranormalcy
Anyone can participate. Copy and paste the code! Make sure you comment with a link to your post!