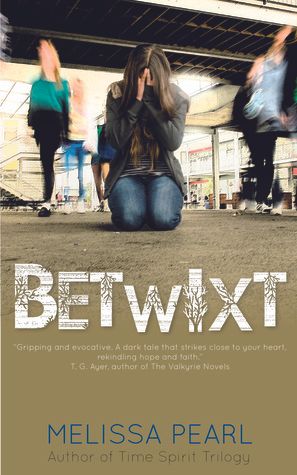 Betwixt
by
Melissa Pearl
★★★★★
Release Date: November 2012
Age: YA
Genre: Drama, Romance, Paranormal, Fantasy, Ghosts
Format: ebook
Source: Author for Review
Buy it:
Amazon
|
Barnes and Noble
Beautiful, wild-child Nicole Tepper is hit by a car and left for dead. But when she wakes the next morning, Nicole finds herself in bed without a scratch. Perhaps she was more intoxicated than usual, as her mother is giving her the silent treatment and her friends are ignoring her as well.

Things take a turn for the weird when Nicole soon discovers she is actually hovering between life and death. Her body is lying in the forest while her spirit is searching for anyone who can hear her. Unfortunately the only person who can is Dale Finnigan, the guy she publicly humiliated with a sharp-tongued insult that has left him branded.
Desperate, Nicole has no choice but to haunt Dale and convince the freaked-out senior to help her. Will he find her body before it's too late? Or will the guy who tried to kill her with his car, beat him there and finish her off before anyone finds out?
My favorite part of this book was the mystery element. It was the, who did it and what's going to happen-that made it an incredible journey. My second favorite part of the book is Dale. I'm pretty sure I love him, nope I'm positive.
So, Melissa Pearl is just brilliant. She weaves these fantastical tales from her very vivid imagination and her books are those that trap me and keep me up late into the night. Her Time Spirit Trilogy was awesome and Betwixt was even better. It's a book that I was dying to read through and finish but dreading the end because I hated for it to be over. I can't wait for more by Melissa!
The first thing I did when I started reading this book was look up the meaning to Betwixt, I was curious. According to the glorious
dictionary
I learned that Betwixt means Between. Fitting and makes sense. The premise drew me into this book well that paired with the fact that Melissa wrote it; and I'm very excited to share what I thought about it.
After a family tragedy Nicole's parents, trying to cope, have given her freedom to grieve in her way and in doing so have pretty much ignored her for the past few years. Suffering from an immense amount of guilt, Nicole loses herself and her way with the wrong crowd and begins making bad choices. Nicole has become this queen B and is really not a nice girl. She's immature and out of control; and her friends could care less that something has happened to her when she disappears (which isn't as much her fault, but it's her fault they're friends in the first place). Thinking she has just run away, everyone begins living life as normal hoping she'll come home soon (and some hoping she doesn't). When Dale finds out that-that isn't the case he's the one by her side risking everything he's worked hard for, for a girl who before everything was one of the meanest people to him.
Since no one else knows she's there, Dale can only hear and not see her, Nicole grows a lot in this time. She learns how much she's hurt her parents, she reflects on the decisions she's made and it is a very important time for her development (I mean, it is most of the book). As she uncovers the events that led up to her ghostly experience, learns Dale's past, and begins to fall in love, her life takes a new lead. Life I said, hard to put down and I never wanted it to end. The entire story is very well done and thought through. It's original and heartbreaking, soul searching and raw emotions behind a beautiful cover. It's one I recommend to contemporary romance fans that may not be paranormal fans, this one may change your mind.
Throughout the book Melissa Pearl had my emotions on overdrive. She uses these complex issues and isn't afraid to make her readers feel real pain and joy with the characters. I loved this book and the relationship between Dale and Nicole was built up perfectly, not too fast and not too slow. It is first and foremost a love story. A paranormal and out of this world love story, and it works. Overall an excellent read, one can easily get lost in.
I recommend this book to fans of:
The Time Spirit Trilogy by Melissa Pearl
,
Ever by Jessa Russo
,
Hereafter by Tara Hudson
,
Notes to Self by Avery Sawyer
,
The Dragonfly Prophecy by Jacquelyn Castle
,
The Unbecoming of Mara Dyer by Michelle Hodkin